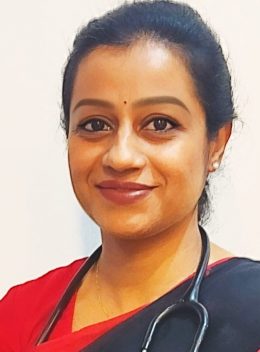 Dr. Gayathri Priyabindu V.
DNB (Gen. Surg.), MCh (Plastic & Reconstructive Surgery)
Visiting Consultant - Plastic Surgery
Experience 10 Years
Consultation days
Mon, Tue, Wed, Fri & Sat : 9.00am to 1.00pm
Consultation with prior appointment*
Mon, Tue, Wed, Fri & Sat : 9.00am to 1.00pm
*Walk in consultation subject to availability of slots
Book an appointment
eConsultation
Dr. Gayathri Bindu Vanguri is a trained Plastic reconstructive and cosmetic surgeon who has been with Bangalore Baptist Hospital 
After completing her general surgery training at Bangalore Baptist Hospital, she worked in the department of Endocrine surgery at CMC, Vellore before going on to superspecialisation in Plastic Surgery.
 She completed her MCh(Magister of Chirurgiae) in Plastic and Reconstructive Surgery with top honors from Bangalore Medical College and Research Institute. Her training at the highly prestigious institute encompassed  all sub specialties of Plastic surgery such as acute burns and post burn sequelae management , craniomaxillofacial & limb trauma, congenital deformities such as cleft lip and syndactyly, microvascular  and reconstructive surgery, onco-reconstruction and aesthetic/cosmetic surgery
MBBS
Bharath University, Chennai
2009
DNB - General Surgery
National Board of Examinations, New Delhi
2013
Mch - Plastic and Reconstructive Surgery
Rajiv Gandhi University of Health Sciences
2018
     

Breast and Aesthetic surgery

               

Burns

             

Craniofacial trauma

             

Diabetic foot management

    

      

Hand surgery

    

     

Trauma reconstruction
1 st Rank in MCh Plastic and reconstructive surgery exam conducted by Rajiv Gandhi University of Health Sciences, Karnataka
Association of Plastic Surgeons of India(APSI)
Karnataka Association of Plastic and Reconstructive surgeons (KAPRAS