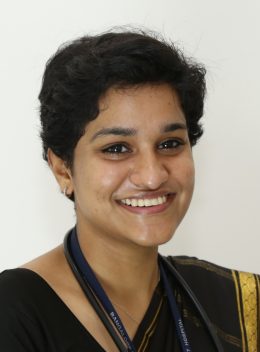 Dr. Vinitha Varghese
MBBS, MD, PM&R,
Consultant
Experience 4 Years
Consultation days
Monday to Saturday : 8.00am to 1.00pm
Consultation with prior appointment*
Monday to Saturday 8.00am to 1.00pm
*Walk in consultation subject to availability of slots
Book an appointment
eConsultation
Dr. Vinitha began her work in the field of Rehabilitation Medicine as a junior doctor at Christian Medical College, Vellore and thereafter completed her training at the same institution. She has managed patients with acquired and traumatic brain injury, spinal cord injury and children with physical disability and developmental delay. Her areas of interest during her residency was cognitive rehabilitation in adult acquired brain injury and Alternative and Augmentative Communication in children with speech and language impairment. She has presented her work at the annual national conference, Mumbai.
MBBS
Pondicherry Institute of Medical Sciences
MD, PM&R
Christian Medical College, Vellore
Neuro-rehabilitation

Pediatric rehabilitation
Indian Association of Physical Medicine and Rehabilitation
Member