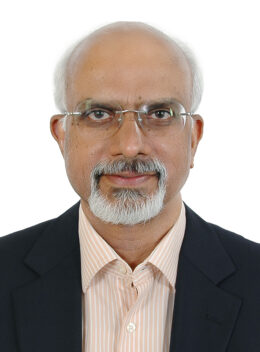 Dr. Thomas Alexander
MBBS, MD-General Medicine, DM-Gastroenterology, DNB -Gastroenterology, Post Graduate Diploma in Statistical & Research Methodology, Advance Course in Medical Education
Sr. Consultant - Gastroenterologist
Experience 38 Years
Consultation days
Monday to Friday
Consultation with prior appointment*
Monday to Friday 2.00pm to 4.30pm . Monday, Wednesday & Friday 9.00am to 1.00pm ( By choice )
*Walk in consultation subject to availability of slots
Special evening clinic with appointment
Thursday - 4.30pm to 6.00pm
Book an appointment
eConsultation
Prior to joining BBH in June 2022, Dr. Thomas Alexander was Senior Consultant, Professor & Head of Gastroenterology at PIMS, Pondicherry. He hadearlier worked for a period of three years in the UAE, as a Consultant Gastroenterologist. Dr. Alexander has extensive experience in Clinical Gastroenterology & Hepatology and diagnostic and therapeutic endoscopies.
He has established Gastroenterology departments and Endoscopy services at VSM Hospital (Mavelikara, Kerala), Holy Cross Hospital (Kottiyam, Kerala) and Pondicherry Institute of Medical Sciences(Pondicherry).
Apart from clinical practice of gastroenterology& hepatology and endoscopic work, he enjoys teaching and has also served as Vice-Dean and Dean of Medical Education at PIMS. In addition to clinics and theory sessions for undergraduate and postgraduate medical students, he has taken sessions on humanities in medicine, history of medicine and evidence-based medicine.
Dr. Alexander is accredited by the National Board of Examinations to train students in DNB Gastroenterology.
MBBS
Rangaraya Medical College, Kakinada, Andhra University
1980
MD-General Medicine
Rangaraya Medical College, Kakinada, Andhra University
1985
DM - Gastroenterology
Christian Medical College Hospital, Vellore, Tamil Nadu Dr. M.G.R. Medical University
1996
DNB - Gastroenterology
National Board of Examinations, New Delhi
1996
Post Graduate Diploma in Statistical & Research Methodology
Pondicherry University, India
2010
Advance Course in Medical Education
Medical Council of India
2016
Clinical Gastroenterology & Hepatology – particularly challenging diagnostic problems and second opinions
Gastrointestinal Endoscopy - Diagnostic & Therapeutic including biliary and pancreatic ERCP, multimodal endoscopic treatment of GI bleed, endoluminal stenting etc.
Academics – Clinics & Theory
Association of Physicians of India
1985
Indian Medical Association
1996
Indian Society of Gastroenterology
1996
Indian Association for Study of Liver
1996
Society of Gastrointestinal Endoscopy of India
1996
American Society for Gastrointestinal Endoscopy
2003
American Gastroenterological Association
2006
American College of Gastroenterology
2006
American Association for the Study of Liver Diseases
2006
European Society of Gastrointestinal Endoscopy
2010
Krithiga E, Kiran, Chokka M, Ramdas Anita, Alexander Thomas. (2018). Are Hematological ParametersAssociated with Disease Severity in Cirrhotic Patients?. Indian Journal of Pathology: Research and Practice. 7.45-51. 10.21088/ijprp.2278.148X.7118.8.
Raju Mandapati JJ, Alexander T. Nasojejunal tube in the treatment of enterocutaneous fistula: Ablessing in disguise. J Curr Res Sci Med 2018;4:65-67
Thara Keloth, Marie Moses Ambroise, Thomas Alexander, Susy S Kurian. A study of High RiskOperational Link for Gastritis Assessment (OLGA) Stages in South Indian Subjects Indian Journal ofPathology: Research and Practice 2018;7(6):776-781
Phansalkar M, Alexander T, Solomon S, Varghese RG Humanities in medicine: Experience atPondicherry Institute of Medical Sciences, India. Indian J Med Ethics Published online on July 3, 2018.DOI 10.20529/IJME.2018.052.
Indira Gunasekharan, Marie Moses Ambroise, Thomas Alexander, Anita Ramdas. Indications andDiagnostic Yield of Colonoscopy in a Tertiary Care Centre in South India. Indian Journal of Pathology:Research and Practice 2018;7(7):847-851
Solomon S, Sheela Devi C, Alexander T, Varghese R G. Exit exam for interns: Lessons learnt and challengesfor the future. Journal of Education Technology in Health Sciences. 2018;5(3)143-145. doi10.18231/2393-8005.2018.0028.
Jawahar R, Varghese R.G.B, Alexander T, Kurian G. Topographic study of H. Pylori and gastric intestinalmetaplasia in patients with dyspepsia in a tertiary health care setting. Trop J Path Micro 2019;5(5):281-286.doi:0.17511/jopm.2019.i05.05.
Sultan Nawahirsha, George Kurian, Thomas Alexander, Susy Kurian. Impact of alcohol on gastric mucosa in apopulation with high prevalence of Helicobacter pylori. Int J Adv Med 2021 Jun 8(6):764-769.