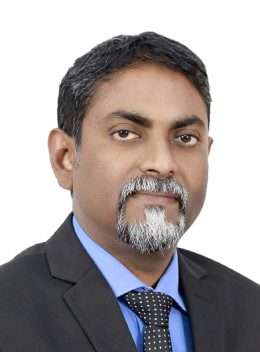 Dr. Spurgeon R.
MBBS, MD, DNB (Endo),Clinical fellowship in Endocrinology(UK)
Consultant - Endocrinology
Experience 13 Years
Consultation days
Mon. - Fri. 09:30 am - 01:30 pm Sat. 09:30 am - 12:30 pm
Consultation with prior appointment*
Mon. - Fri. 09:30 am - 01:30 pm Sat. 09:30 am - 12:30 pm
*Walk in consultation subject to availability of slots
Special evening clinic with appointment
Tue. 04:30 pm - 06:00 pm
Book an appointment
eConsultation
Dr Spurgeon has 15 years of experience as a Physician and ten years in the field of Endocrinology and Diabetes. He is an expert in handling complex endocrine problems ranging from Pituitary disorders, Metabolic Bone disorders, Thyroid, Adrenal and Gonadal problems.
Having completed his medical degree from Guntur Medical College, Dr.Spurgeon pursued his Masters in Internal Medicine at Rangaraya Medical College Kakinada. Later on, he developed an interest in the metabolic disorders and pursued super-Speciality training in Endocrinology and Diabetes from Christian Medical College Vellore.  Dr.Spurgeon's never-ending zeal for exploring new horizons made him pursue a Fellowship in Endocrinology at the University of Aberdeen-UK for two years. During this time he underwent focussed training on Pituitary and Insulin pumps.
Dr. Spurgeon has to his credit ten papers in International and National journals and has enhanced his knowledge by attending the highly reputed Pituitary workshop at Marstrand, Sweden. He is also a regular speaker in Endocrine CME's and Conferences.
Dr.Spurgeon worked for one year as a Physician in a Christian Multi-speciality Hospital at Kakinada after his Postgraduation in Internal Medicine. Thereafter he joined Bangalore Baptist Hospital and is continuing fulltime. After completing the Endocrinology training he started the Endocrinology and Diabetes Unit in BBH. He also worked as an International Clinical Fellow in Endocrinology department at the University of Aberdeen for two years and as a Senior Registrar and Trainee in Endocrine at CMC – Christian Medical College, Vellore.
MBBS
Guntur Medical College, Andhra Pradesh
MD(Internal Medicine)
Rangaraya Medical College, Andhra Pradesh
DNB( Endocrinology)
CMC - Christian Medical College, Vellore
Clinical Fellowship in Endocrinology
University of Aberdeen, UK
Adrenal Disorders

Diabetes and related problems

Growth and gonadal disorders

Metabolic bone disease

Osteoporosis

Pituitary disorders

Thyroid disorders
AV Gandhi National
Gold Medal for his service to the community during his Endocrine training
Endocrine Society of India
Member
British Endocrine Society
Member
Endocrine Society-USA
Member