Post Graduate Fellowship in Clinical Chaplaincy & Counselling  (FCCC)
Healthcare | Counselling | Palliative Care

Launch of the FCCC programme by Dr J.V Peter, Director of CMC, Vellore
Clinical Chaplaincy
A clinical chaplaincy is an integrated approach to improving the quality of life by facilitating relevant healthcare and counselling initiatives. This involves the physical, emotional and spiritual health of people towards healing and wholeness through empowerment and networking.
To know more about
Fellowship Programme in Clinical Chaplaincy Programme
Annual Course Fees for the programme: Rs. 39,600
University fees Rs 15,000
Working Student Scholarship is available at Rs.6000 per month for six months
Minimum Qualification: Graduation
Age limit: 45  years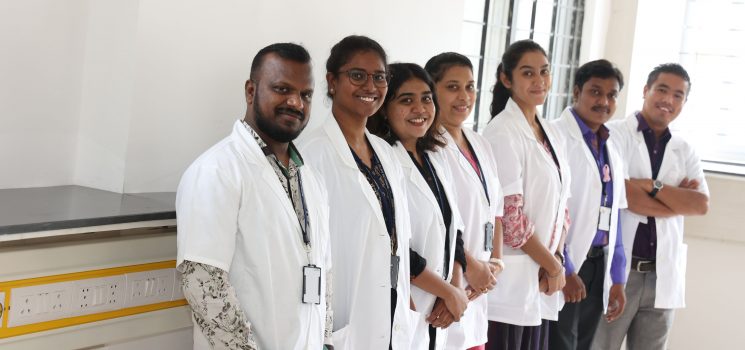 FCC residents ready for their clinical posting
Post Graduate Fellowship in Clinical Chaplaincy & Counselling 
FCCC is a one-year residential programme intended to train men and women to become chaplains with basic clinical and counselling skills. The training includes classroom learning, clinical area posting, event management and various chaplaincy functions in a hospital setting. It also includes visiting NGOs, Mission trips and exposure to relevant biblical foundations. The basic qualification for this fellowship programme is any graduation. Preference will be given to candidates sponsored by institutions. Having theological training or experience in any ministry will be an added advantage.

Dr Samuel Meshack, Pro-Vice-Chancellor, Martin Luther Christian University (MLCU), Shillong – MOU Signing
Recognition of the programme
Post Graduate Fellowship in Clinical Chaplaincy & Counselling  (FCCC) is a one-year residential programme conducted at Bangalore Baptist Hospital in association with Martin Luther Christian University (MLCU), Shillong.  Martin Luther Christian University was created by Act No. 11 of 2005 of the Legislative Assembly of Meghalaya and is recognized under University Grant Commission Act, 1956 under Section 2(f). The University is empowered to grant degrees under Section 22 of the UGC Act.
Bangalore Baptist Hospital (BBH) is a 400-bed multispeciality hospital that embodies quality with compassion and is governed by Christian Medical College (CMC), Vellore. BBH is the first mission hospital in the country to have met national quality standards (NABH and NABL) of excellence in healthcare. BBH started as an outpatient clinic in the mid-sixties by the Southern Baptist Convention and evolved into an 80-bed general hospital which was formally opened on 15 January 1973.
With an experienced, well-qualified team of over 300 doctors (full-time, visiting and PGs) and a passionate workforce of more than 1,200 staff, BBH is committed to providing high-quality care using the latest technology and medical advances in vogue. BBH stands for the vision "Healing and Wholeness in the spirit of Jesus Christ". Please visit www.bbh.org.in for more details
Dr Samuel Meshack, Pro-Vice-Chancellor, MLCU visit the FCCC residents
Role of Clinical Chaplains

Clinical Chaplains facilitate, empower and network various healthcare initiatives to support the physical, emotional, and spiritual needs of the community. Clinical Chaplains are committed to improving the quality of life so that people may experience Healing and Wholeness.

Clinical Chaplains are trained to facilitate

Counselling support
Healthcare support and networking
Chaplaincy support
Community empowerment initiatives
Training and Development Programmes
Introduction and development of NGOs

 Subjects taught in Clinical Chaplaincy Fellowship Programme.

Basic clinical skills
Counselling and crisis management skills
Biblical foundations of healing and wholeness
Community leadership skills
Management of organizations

Training Methodology – In hospital

Classroom sessions
Clinical area posting
Emergency patient service co-ordination
Patient relations and grievance handling
Fundraising events

Training Methodology – In community

Healthcare camps/ voluntary initiatives
NGO/Institution visit
Networking initiatives
Mission trips
Pioneer Batch Graduation Ceremony 2023
Admission Qualification:  Any Degree. Age Limit:50 years
Commencement of the programme: 1st September 2022
Stipend:  Monthly stipend will be available for six months during the hospital posting period.
Subsidized food will be available. Hostel facilities will be provided subject to availability

Course structure

Basics of Healthcare Services

First Aid and Emergency Medical Care
Anatomy & Physiology
Hospital Organization, patient care services and operation of basic medical equipment
Food Nutrition & Dietetics
Health Education, Communication, Public Relations and Public Health
Basic Concepts of Health & Disease and Medical Terminology.

Counselling 

Introduction to Counseling
Psycho-Analysis
Crisis Care and Counseling
Marriage Enrichment and Marriage Crises Counseling
Counselling the Addicts and HIV/AIDS Infected.
Ministry to the Differently Abled Persons.

Community leadership

The essence of a leader
The mission of a leader

The Biblical Foundations

Health and Healing
The Healing Ministry

NGO Management

Training and development
Networking and Partnerships
Volunteer Management
Fundraising Management
NGO Management

Expected job profile of a qualified Clinical Chaplain

Clinical Chaplains may take up appropriate responsibilities in the following settings

In Hospitals as Clinical Chaplains
In organizations/institutions/Schools/NGOs as Clinical Chaplains
Churches/Parishes to co-ordinate health and healing initiatives
Set up own initiatives as NGOs/Projects etc… to facilitate bringing healing and wholeness

Palliative Care

Pain management
Empowerment of  families
Rural and Urban Palliative Care management

 
In Hospital settings – Role of a Clinical Chaplain

General Functions:-

Lead/coordinate various events
Staff Counselling
Lead Devotions/Studies/Group discussions
Organize fundraising events
Represent the organization in the Public Relations area
Conduct fellowship meeting
Assisting Funeral services
Active role in the palliative care team
Active role in the Community outreach team
Develop volunteers
Relevant training programmes

Patient care-related functions:-

First aid – Minor cuts and bruises, cold and hot burns, bites and stings, drowning, shock, fractures, seizures, gastric issues-  First aid kit- preparing and teaching how to prepare
Triaging – Checking vitals, Assist in CPR
Basic life support (BLS)
Assist in patient registration
Patient Counselling
Socioeconomic assessment of patients
Patient and caregiver relations development
Management of patient relatives and caregiver relations
Organ/blood donation coordination
Camps and campaigns in the organization and in the community
Emergency/Casualty department front desk management
Crowd management
Disaster Management and evacuation
Patient education on basic healthcare
Inpatient care coordination with patient and caregivers
Guest relations and reception
Basic tests – Glucometer, ECG
Diet advice – Balanced diet
Basic Diet counselling -Foods to consume and to avoid for common medical conditions like diabetes mellitus, anaemia, hypertension, cardiovascular diseases,

 

In non-hospital setting – Role of Clinical Chaplain

Starting an NGO focussing on Physical, Emotional and Spiritual aspects of health.
Work with an existing NGO/Church/School/Project
Run a Health check-up & Counselling Centre (HCC) in the community
Conduct Camps/Campaigns
Eldercare – Facilitate healthcare
Eldercare – Provide emotional and spiritual support
Counselling
Palliative care

To know more about
Fellowship Programme in Clinical Chaplaincy Programme

Annual Course Fees for the programme: Rs. 39,600
University fees Rs 15,000
Working Student Scholarship is available at Rs.6000 per month for six months
Minimum Qualification: Graduation
Age limit: 45  years