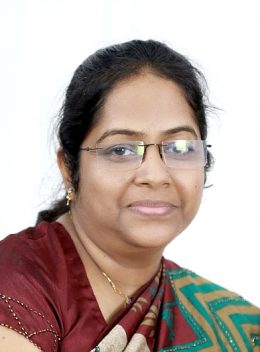 Dr. Anita Mariet Thomas
MBBS, MS (ENT)
Consultant
Experience 27 Years
Special evening clinic with appointment
Wednesday 04:30 pm - 06:30 pm
Book an appointment
eConsultation
Dr Anita has extensive  experience in the field of ENT, with specialised training in Endoscopic sinus surgery. Her special interests are in otology- microsurgery of the ear and Endoscopic sinus surgery Prior to joining Bangalore Baptist Hospital as a Consultant in 1995, she worked as a Senior Registrar at Manipal Hospital, Bangalore. From 2013 to 2016 she worked in LLH hospital Abudhabi as a specialist, ENT while on sabbatical leave.
She was instrumental in getting DNB Post Graduate teaching – Otolaryngology at Baptist Hospital and started the training program from 2010. She has held many administrative responsibilities at BBH as Assistant Chief of Medical Staff, Head-Allied Health Services and Chairperson of various committees. Her considerable experience has been enhanced by her regular contribution to conferences, international journals and workshops in India and abroad.
She has got International & National publications and she  has attended in numerous conferences & workshops, She has been a guest speaker at National conference.
Apart from being a very busy doctor, Dr. Anita is also a professional artist and has conducted many solo and group exhibitions of her paintings within the country and internationally.
MBBS
MS University, Baroda
1990
MS (ENT)
MS University, Baroda
1996
Otology and Endoscopic sinus surgery
All routine ENT Surgeries - Tonsillectomy, Adenoidectomy, Styloidectomy, Septoplasty, SMD, Turbinectomy, Direct laryngoscopy, Oesophgoscopy, bronchoscopy.
Microsurgery of Ear –Myringotomy/grommet insertion, Tympanoplasty. Mastoidectomy – canal up and canal down, Ossiculoplasty, Stapedotomy, Glomus tumor excision, Facial nerve decompression etc.
Microsurgery of Larynx (MLS) and Phonosurgery, Thyroplasty type-1
Endoscopic Sinus Surgery and advanced endoscopic procedures like endoscopic DCR, Orbital decompression, CSF leak repair etc.
Head and neck surgery- Lymph node biopsy, Sub-mandibular gland excision, Thyroglossal cyst excision, Thyroidectomy, Partial maxillectomy, etc.
Association of Otolaryngologists of India
Life Member
Indian Society of Otology
Life Member
Indian Voice Association
Life Member
Neuro-Otological & Equilibriometric Society of India
Life Member